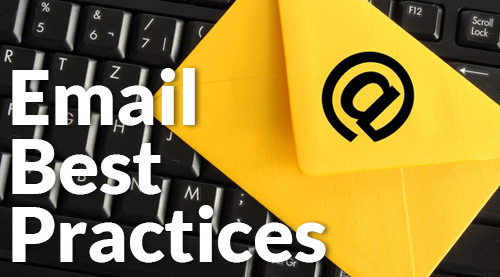 Email is a system we use in many facets of our lives. It's so easy to use that it's also to easy to misuse, especially in a business environment. Many of us use multiple email addresses to filter and organize our online communication so you have to remember which hat you're wearing, and when you use your business email, edit your message accordingly.
People are highly dependent on emails for its convenience and efficiency. Studies have reported that as many as 2,362,756 emails are sent out every second. However, all those bits flying around use resources (time, space, electricity) and if they're company resources, you should use them respectfully. If it's your company, you should be make your policy clear on what is and isn't acceptable use of your valuable business technology.
Email in the Corporate World — Whose email is it anyway?
Most businesses have a company email system to manage incoming emails. However, unlike the email messages you receive in your personal email account, corporate emails require care and attention in both reading and responding. Messages may include personal and time sensitive information, demanding you to give an accurate answer immediately. When responding to corporate emails, one thing to remember is that the computers, the software on them, the data files, the email system, and Internet access are all company property. They are made available for company business and as a result, the email message you write does not belong to you but the company. Other people are perfectly entitled to look at your business email.
Corporate email messages function in a way that's similar to the postcards you send in traditional snail mail. While your postcard will eventually reach its intended recipient, the message you wrote is open to being read by mailmen and other postal workers all along the way. Similarly, companies can set up email policies and monitoring processes to ensure that the messages are relevant and professional.
Here are five corporate email practices you should honor:
1. Keep Your Corporate Emails Relevant
As an employee, your job is to represent your company professionally. Emails sent from your corprate account should be composed with the company's best interest in mind. While you should always be courteous and friendly, everything you write should be business-related. Keep everything professional and make sure the information in each email message is relevant to the business and does not involve solicitation or promotion of religious or political causes.
2. Maintain a Professional Writing Style
Stay away from using email systems in ways that are disruptive, offensive to others. Sexually explicit messages, images and cartoons, ethnic slurs, racial comments, off-color jokes or anything that could be construed as harassment or shows disrespect for others not only violate work ethics and integrity, but also tarnish the professional image of your company. Write simply and clearly to convey your message and stay on topic. Proofread for spelling and grammar errors, semantic ambiguities and slang.
SEE ALSO: Know about Email Marketing Before You Send
3. Protect Confidential Information
All email messages at work should be accurate, appropriate, ethical and lawful. Because you are no doubt exposed to confidential information in your workplace, it is important for you to refrain from sharing that information with anyone unless explicitly permitted to do so. Always check with your company before releasing sensitive information, and remember, just because your colleague next door has received permission to send out certain information, doesn't mean you have the same privilege. When it comes to releasing confidential information, err on the side of caution and know what you can and cannot share.
4. Refrain from Electronic Distribution of Company Property
While you are encouraged to promote company products, programs and software to raise brand awareness and increase buyer conversion, it is never okay for an employee to give anyone access to company files, data and software that are reserved for workers in the company. Duplicating or sharing of software and any company property without legal permission violates copyright laws and incurs consequences that may lead to disciplinary actions, employment termination and even lawsuit.
5. Notify Your Supervisor of any Suspicious Activities or Alleged Violations
Many companies have rules regarding email and Internet use. Here at EnvisionIT Solutions, we recommend our clients have an Acceptable Use Policy. In an audit, companies regularly retrieve and read email messages and other computer files. As an employee, it is your responsibility to make sure that the company's policies are followed and to immediately notify your supervisor or manager of any violations of these policy.
Keep your corporate emails professional so you can effectively and efficiently interact with your clients and colleagues. Follow the five guidelines above and you'll enjoy seamless communication in your workplace.
---
Written By Kevin Gray
Hello! I am the Sales Manager and one of the Senior IT Consultants @ EnvisionIT Solutions. I help our clients envision great technology solutions that help their businesses grow. Let me know if you have any questions. I am an avid outdoorsman who loves fly fishing and camping. I also love sports – soccer, basketball, football….