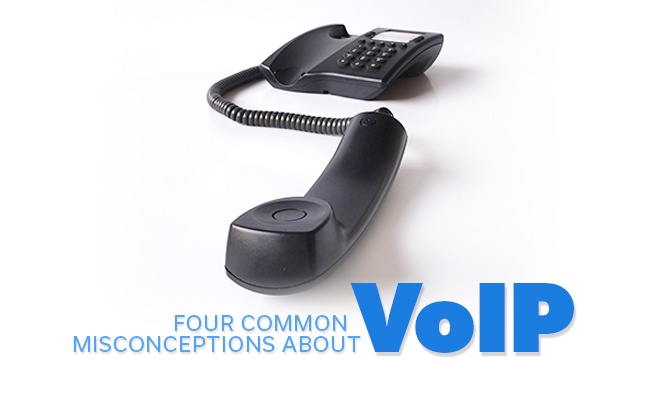 VoIP is often mysterious to most business owners due to the fact that it is a fairly new technology. Unfortunately because of this, there are some misconceptions that sometimes arise when it comes to VoIP phones.
1. VoIP will always save me money!
For single, smaller offices, the answer isn't clear cut. VoIP will save businesses money in the long run from reduced overhead expenses and lower cost of usage. However, sometimes the initial investment in VoIP phones can be a little pricey. It also depends upon the type of phone system the small offices are currently using. Most of the time, their existing phone system has many less features and outdated calling plans.

For larger offices or offices with multiple branch locations for branch offices VoIP can be a huge money saver. Further, remote workers and traditional offices are all on the same page with VoIP, leading to tremendous efficiencies in workflow. Although efficiencies aren't necessarily a dollars-and-cents savings, they're very beneficial. Some VoIP systems allow the same call volume in and out, but with much fewer lines to pay for, thus saving significant amounts of capital.
2. Digital technology could put my company at risk!
No! False! Digital technology is considered by industry experts to be the most reliable technology available. In fact, manufactures of products supported by traditional systems are starting to make their product lines obsolete in an effort to force customers into new products supporting VoIP technology. In these cases, it's advantageous to partner with a local provider who can maintain your system if the manufacturer won't.
3. The IT department says we can't handle VoIP on our current network.
Depending on the age of the network, the infrastructure may not be compatible with VoIP. It also greatly depends on your internet connection speed and quality. A network assessment for VoIP would need to be done to determine exactly what, if anything, would need to be upgraded. If you work with a provider that does not insist on performing a comprehensive assessment…run away fast! Without knowing what's going on with your network, there is a strong possibility you will be very disappointed with the quality and performance of your VoIP system.
4. VoIP solutions offer poor quality voice calls
This is probably the biggest misconception about VoIP and in many cases it's actually TRUE. It's true in the sense that not all VoIP systems are equal in quality and in implementation. But, if implemented PROPERLY, the call quality can actually be equal or better than the traditional phone lines.