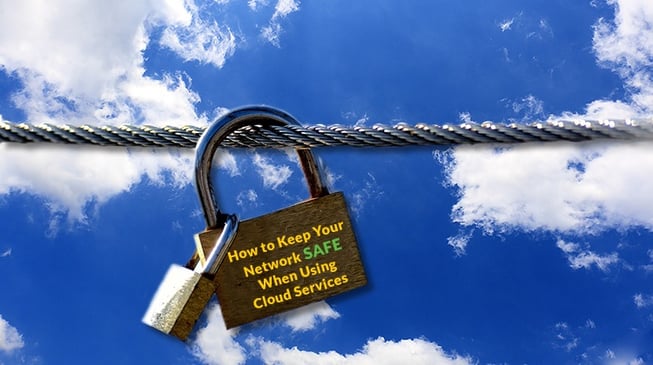 Over 60 percent of firms use cloud services, but most information officers are struggling to keep their company's Internet-based networks secure. Although cloud-based security is still in its infancy, experts suggest that organizations follow several business information technology best practices to secure their data. Keep reading to learn how to keep your network safe when using cloud services.
Industry Experts Admit Increased Risks
According to an Enterprise Strategy Group (ESG) study, two-thirds of all organizations use cloud-based services such as Microsoft Office 365, Dropbox, Salesforce and Workday. The study revealed that over 60 percent of polled business information technology professionals believe that their network security operations are dangerously disharmonious and that they are learning how to secure cloud networks on the fly. The IT experts also note that monitoring capability is marginal in cloud environments. This makes it challenging to conduct standard audits, and many small business computing firms' staff members cannot proficiently manage these fledgling cloud-based platforms, also known as Software as a Service (SaaS).
Cloud-based Computing Is Still Maturing
Current SaaS providers' lacking approach to identity management presents additional cloud computing challenges for smaller businesses. Some SaaS providers do provide identity management support, but only for their own services. According to the Cloud Security Alliance, the industry has yet to standardize its defense protocols.
A Network World article recommends identity management as an enterprise-wide objective, rather than a purely IT-based initiative. For cloud-based identity management implementations to succeed, top-level executives must actively support the effort. By doing this, firms can establish a strong foundation for online credential management.
SaaS Security Requires Extra Diligence
Cloud security differs from in-house network protection, yet the SAS 70 standard, designed specifically for internal networks, is the only current framework available. Chenxi Wang, a Forrester research analyst, admits that SAS 70 is not the ideal outline for cloud security, but it offers a springboard for regular cloud-based business information technology audits.
Additionally, a Security Intelligence article, penned by network expert Alfredo Santos, advises firms to deploy measures that go beyond firewall and antivirus protection such as intrusion detection, rule blocking and distributed denial of service (DDoS) attack mitigation. The IT veteran also recommends isolating an organization's various cloud-based computing groups by keeping application servers, credit card numbers and operations databases segregated via firewalls in addition to limiting end user permissions.
Firms Must Demand Transparency
To protect data from hackers in the cloud, SaaS providers closely guard their defensive measures, making it difficult and frustrating for organizations to verify whether a provider can successfully fend off intruders. Data security companies, such as Gartner Group, suggest that SaaS users prepare for the worst possible outcomes and demand proof that their providers can protect proprietary data. Santos also recommends regular threat assessments and ongoing ethical hacking campaigns - initiatives in which programmers attempt to find any conceivable way to exploit a network then fix the vulnerabilities that they discover. Furthermore, the analyst advises firms to make sure that their SaaS provider assigns and identifies a specific, individual account manager.
Tame the Double Edged Sword
Global, 24-hour accessibility is also cloud computing's biggest weakness. Business technology departments can mitigate this threat by limiting database access to designated internet protocol (IP) addresses - unique identifiers assigned to computing devices - or deploying a virtual private network (VPN) that shields Internet-based communications from public access. Administrators can also block specific computing features such as messaging.
Most businesses use SaaS services, however, business information technology staff members are finding it challenging to keep online networks secure. Due to this heightened risk, it is important that firms understand exactly how providers will secure company data and how storing information on the Internet may increase network vulnerabilities.
See also: The New Age of File Sharing
---
Written By Kevin Gray
Hello! I am the Sales Manager and one of the Senior IT Consultants @ EnvisionIT Solutions. I help our clients envision great technology solutions that help their businesses grow. Let me know if you have any questions. I am an avid outdoorsmen who loves fly fishing and camping. I also love sports – soccer, basketball, football….