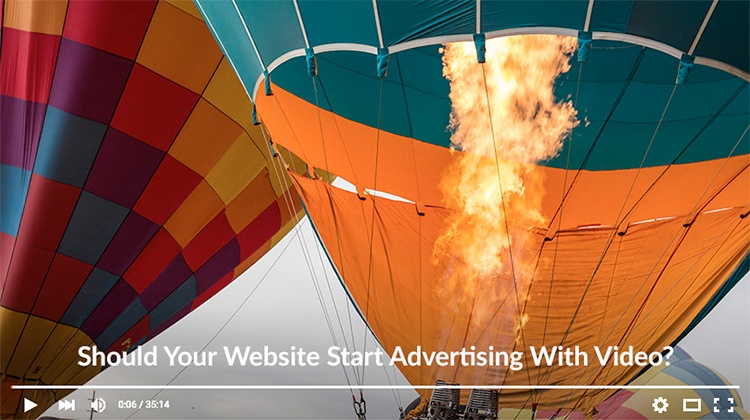 As the owner of a small-to-medium-sized business, you have lots of people, deadlines, and projects vying for your time and attention. Of all your daily responsibilities, developing, launching, and managing an effective web marketing program is key to attracting new business and establishing yourself as the "go-to" expert in your field. An effective digital marketing program that advertises your services will not only attract new visitors to your website, but also attract the very specific type of client looking for exactly what your business offers. One of the most important components to include in your online advertising campaign is integrating engaging, high-quality, and informative videos.
Here are four reasons why you need to start advertising with video on your website:
1. Measurable Results
By strategically placing state-of-the-art, interesting videos on your business website's landing pages, alongside blogs, and/or on the home page, you will increase both the number of visitors to your site, as well as how long each visitors stays on your website. You want the visitors to spend time on your website. You want them to read your blogs, explore your different pages, and watch your videos. The more time a visitor spends on your site, the more likely he/she is to hire your services or purchase your products.
Marketing Sherpa, a research firm that tracks effective (and non-effective) facets of marketing (including video marketing), found that businesses that include video on their websites and/or social media platforms increase organic (non-paid) traffic by over 150%. In addition, videos attract three times as many visitors to a website each month and double the length of time visitors stay on a website that has videos.
Add one engaging, entertaining, and informative video to your advertising program and watch the number of visitors to your website increase. Add a new one on the same day every week, and watch the previous visitors return. You'll realize how necessary videos are to your website when you see the number of visitors increase with each new video posted.
See also: Why You Should Use Video on your Website
2. Videos Put Your Customer First
Red Bull's YouTube pages get thousands of viewers of each new video posted. There's a simple reason there's so many people are interested in Red Bull's videos – the company markets directly to their audience. Red Bull purposefully creates and posts extreme action sports videos featuring individuals participating in the extreme sports. Red Bull's targeted consumers are individuals who live life to the extreme. In lieu of posting videos that show someone sitting on a couch holding a slim aluminum can, they create high-energy, exciting, engaging videos that highlight goosebump-inflictng moments and jaw-dropping adventures of their fans. Red Bull's product comes second to the life activities the company's customers participate in. That's why the videos and the advertising campaigns are so successful.
3. Videos Address Diverse Needs
Whether you're an architect, a lawyer,a school principal, or the owner of a unique gift shop, you can and should incorporate video marketing as part of your advertising campaign. You don't have to create a cool energy drink to create a cool video. Some of your videos should be designed and launched to attract and compel the viewer to do something (hire you, purchase your product, attend your event), but others can also be used to provide product demonstrations or training.
4. Access from Multiple Devices
Your target audience is able to access your video marketing campaigns via various platforms. From desktops at the office, to smartphones and other 21st century gadgets, your videos (if produced correctly) can be accessed and viewed from a number of different sources, at any time of the day, from any place in the world.
If you want to:
make your business stand out from the competition,
monetize your website,
establish yourself as the "go-to" leader in the industry,
position your services as a 21st-century contender,
you need to include quality, engaging, and top-of-the-line videos in your marketing efforts.
---
Written By Mike Tungate
Hello! I am the Web Services Manager @ EnvisionIT Solutions. I create beautiful websites, branding and marketing systems for businesses. Let me know if you have any questions. I am an avid photographer and a lover of musical instruments.
|

Website