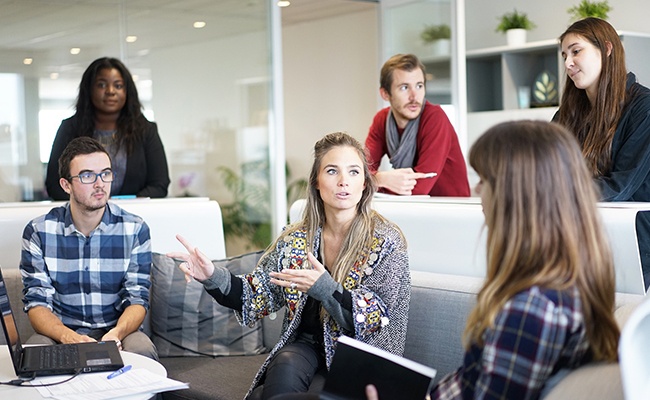 Everyone agrees that business productivity is heavily dependent on the organization's ability to form a cohesive team. To promote workplace productivity, it's critical for office managers and business owners to have strong communication skills. These skills strengthen a leader's ability to communicate goals with clarity and persuasion, encourage advancement and growth, and ultimately bring the team closer together.
However, with so many things going on, it's often difficult for everyone to sit down at the same time for a detailed discussion. Yet if team communication is not maintained on a regular basis, even a week-long business meeting or retreat will not do the trick of bringing everyone to the same page. But thanks to technology, managers, supervisors, and team leaders can now bring the team together anytime and anywhere they want. Here are five tips to help you use technology to maximize collaboration and productivity:
1. Connect teams virtually within the company.
Create employee portals and team sites to improve collaboration and communication. The team site can be used as a discussion board, a place for team members to reach out to others and find support. With this forum-like setup, you don't have to worry about time zone differences or send massive amounts of email to multiple recipients. Team members can simply post a message to the shared site to keep everyone in the loop. For example, messages can be updates on project progress, new announcements, and project scope changes.
2. Take advantage of cloud storage.
The advancement of "cloud computing" has made it possible for people to store and access programs and files over the Internet. Instead of saving files on each person's personal computer workstation's hard drive, folders can be created on a cloud storage device allowing your team to conveniently upload, download, review, and update project documents in one central location. Most of the time, cloud storage programs like Microsoft OneDrive, Google Cloud, and DropBox give team members the options to ask questions and comment directly in the document. The cloud storage feature saves a lot of time and prevents inefficiencies such as printing out multiple copies of the same document or email failures when files are too large to send or receive.
SEE ALSO: What Unlimited Cloud Storage Means for Your Business
3. Meet on the web.
Help your team to save paper, time, and even gas money (if they need to travel) by meeting virtually. Skype, GotoMeeting, and similar programs create a seamless meeting experience by allowing attendees to video and audio chat, share screens, upload files, and show multiple PowerPoint or Slideshow presentations. As a bonus feature, there is also an option to record the meeting or presentation so team members who missed the meeting (or just need a quick refresher) can replay the content to stay on track.
4. Monitor business productivity and employee progress.
Online business productivity software solutions are widely available. These software solutions are great ways for managers to track progress during every phase of a project through completion, while offering immediate reinforcement or coaching to keep performance and deadlines on track. This is a great way to keep everyone informed of project progress and eliminate moments of surprises that can often frustrate team spirit.
5. Maintain an efficient email system.
Developing an efficient email system improves communication and is a vital tool for keeping everyone informed. Create folders to organize, store, and access emails with ease. Remember to also take advantage of the email group system so no one on your team is left out of any key communications.
When it comes to your business success, teamwork carries great weight. Smart utilization of technology helps managers and leaders stay connected with their team members. We recommend all our clients to use email and spam protection solutions so they can enjoy seamless virtual communication and collaboration.
If you are looking for ways to maximize the benefits of business technology, we can lend a hand by providing timely repair and troubleshooting services to minimize your computer downtime and maximize your work productivity. We know technology so you don't have to!
---
Written By Kevin Gray
Hello! I am the Sales Manager and one of the Senior IT Consultants @ EnvisionIT Solutions. I help our clients envision great technology solutions that help their businesses grow. Let me know if you have any questions. I am an avid outdoorsman who loves fly fishing and camping. I also love sports – soccer, basketball, football….