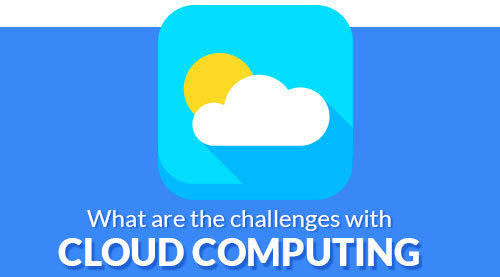 In recent years, much talk has been made about cloud computing, and its ability to scale your business to the next level. While Google is definitely noticing a new search trend for "cloud" on the Internet, many businesses are still cautious about making the move,
and for good reasons. On one hand, the cloud offers great convenience by making shared data accessible on the Internet. On the other hand, there are some technical challenges that still make data storage on a local server an appealing solution, especially for small businesses that do not have a dedicated IT team to monitor and manage information on the cloud. If you are considering moving your business technology operations to the cloud in the near future, understanding the challenges involved will prepare you to make a seamless transition. Here are a few challenges you should be aware of:
Security and Privacy
Maintaining data integrity and privacy outside the corporate firewall is a top concern for businesses that are interested in cloud computing. Regardless of the extra security that cloud service vendors boast of, business owners must understand that a security breach on a single cloud server would immediately affect multiple clients — even if the attack focuses on a single client site. To protect your data and privacy, a responsible cloud provider should be equipped with additional encrypted file systems, data backup software and other security applications to safeguard your information, track suspicious behaviors and mitigate any risk that may occur as a result of a security breach.
See also: How Data Breaches in 2014 Prepare Us for Computer Security in 2015
Availability and Service Quality
Lack of support is another major complaint businesses have about cloud service providers. Whether you are managing your cloud operation internally or hiring someone outside to do the work, you want a reliable cloud service provider that is available for you 24/7/365 days a year. Having timely support and monitoring from your cloud provider will enable your business to effectively address technical challenges, while giving you the peace of mind that the infrastructure you adopt can intelligently handle various data traffic levels. When choosing your provider, remember to examine the Service Level Agreement (SLA) to ensure that your provider has agreed to compensate you for any downtime.
Portability and Reliability
Besides understanding the Service Level Agreement (SLA) and holding your provider responsible for their service quality, you should also receive cloud computing service should give you the flexibility to integrate with on-premise IT. As Cloud Tweaking explains, "Businesses should have the leverage of migrating in and out of the cloud and switching providers whenever they want, and there should be no lock-in period." This is why a great cloud service provider is one that offers you the appropriate level of user control. It should be easy to learn and easy to use. Complex integration that involves connecting the cloud application to the rest of the enterprise applications and data structures should be quick, simple and cost effective.
Walking on Clouds
Cloud computing is certainly a promising tool that not only streamlines your data storage, but also aids in your on-site and off-site collaborative efforts. While it is great to have access to valuable information no matter where you are, having a balanced view of cloud computing can help you to evaluate its effectiveness and scalability for your business. EnvisionIT Solutions is ready to handle your technical needs with promptness and professionalism. We know technology, so you don't have to!