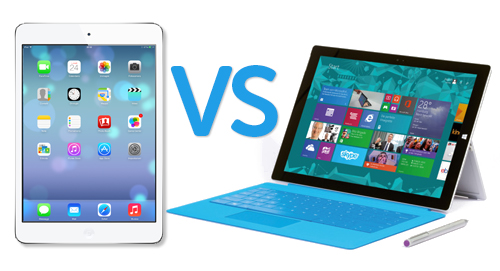 The competition has officially begun. You have probably heard of Apple iPad and its top rival, Microsoft Surface. As the two competitors run the tech race, designers and engineers on both sides are developing and enhancing their respective tablets, hoping to be crowned Tablet of the Year. There is no doubt that both tablets deliver great games and movies, but are they equal when it comes to day-to-day business management? In this exciting comparison between the iPad vs Surface, we are going to examine both products from top to bottom so business owners, entrepreneurs, and other busy people can know the real differences between the innovative Apple iPad and the streamlined Microsoft Surface.
Design & Functionality: No Ugly Ducklings
Apple iPad and Microsoft Surface both look stunning. Measuring just 10.81 x 6.77 x 0.37 inches, the Surface is as thick as the iPad. The Surface weighs exactly 1.5 pounds which is only 0.1 pounds heavier than Apple's tablet. However, Surface bests iPad for offering users a full-size USB port, a microSD card slot, and an HD video port. Even when iPad tries to compensate for the apparent functionality loss with its convenient Bluetooth radio, business owners recognize the efficiency and versatility of the Surface for its easy access to a Windows RT-certified mouse/printer and business files from a USB storage device or microSD card.
Winner: Surface
Typing Experience: Can you find your ABCs?
Surface's 1366 x 768 pixel resolution is no match for the iPad's 2048 x 1536 Retina display. While both Surface and iPad utilize touch screens to ease your typing chores, Laptop Mag tips its hat to iPad because Surface lacks the predictive text or auto-correct features iPad has seamlessly integrated in its typing
RELATED ARTICLE: Microsoft Office 365 VS. Google Apps. Which is right for your business?
program. According to them, the race for this round is a close one. Nonetheless, the team felt more comfortable using the iPad's onscreen keyboard, "because of its larger buttons and predictive text feature."
Winner: iPad
Email & Messaging: Hello World!
Emails and other electronic business communications play a vital part in a business person's daily routine. Whereas iPad's mail app limits users to attaching just photos and videos, Surface gives users the freedom to not only upload a myriad of attachments (videos, photos, documents, you name it), but also allows users to directly access to their SkyDrive account. Because business efficiency and convenience are important to end-user experience, we believe that iPad is a tad troublesome when it comes to uploading documents and accessing uploaded files on the iCloud account.
Winner: Surface
Audio: Knock, knock, who's there?
Apple's iPad easily wins this round by designing a built-in audio device that secures quality Skype calls and a clear volume level. According to Laptop Mag, they found that Surface, "even with the volume turned all the way up... barely filled a small conference room." These factors definitely affect audio communication for collaborative-oriented business men and women.
Winner: iPad
The Verdict: Who Is Our Winner?
Up to this point, we have seen a shoulder-to-shoulder race. While this demonstrates the quality and reliability of both products, iPad ultimately wins the game if we continue to compare every single feature, from user interface down to battery life.
Here is a summary of what the Laptop Mag found:
iPad lasts more than 4 hours longer on a charge than Surface.
iPad outperforms Surface for having better load time when it comes to opening apps, games, and browsers.
iPad demonstrates stronger Internet connectivity, thanks to its powerful Wi-Fi and 4G LTE versions
Although iPad is our winner, Surface is definitely a great tablet for your business needs. At the end of day, it all boils down to your comfort level and personal preference. In their 2014 tablet retrospective, Laptop Mag actually found the best tablet for business to be the Dell Venue 11 Pro! What is your preferred business tablet? Share your tablet winner with us in a comment.

---
Written By Kevin Gray
Hello! I am the Sales Manager and one of the Senior IT Consultants @ EnvisionIT Solutions. I help our clients envision great technology solutions that help their businesses grow. Let me know if you have any questions. I am an avid outdoorsman who loves fly fishing and camping. I also love sports – soccer, basketball, football….