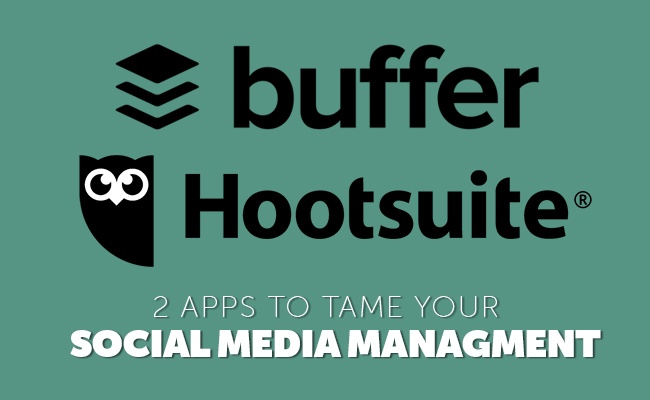 Competitive enterprises market their products and services with social media. Hootsuite and Buffer are the two most popular applications businesses use to manage their digital marketing campaigns. Each application can help you gain better insight into your social media performance, while allowing you to monitor and control your accounts. In some instances, two applications can work better than one.

Using Technology to Reduce Your Workload
It is difficult to manage a business effectively and run a comprehensive social media marketing campaign. Developers have created many tools to simplify digital marketing. However, most businesses typically gravitate towards Hootsuite and Buffer. The Hootsuite social media app offers advanced metrics and enterprise wide digital asset monitoring, while Buffer is primarily a content scheduling tool. These apps save you time by allowing you to pre-plan and schedule posts.
See also: Key Elements of Social Media for Your Business Success
Delving a Little Deeper
Hootsuite and Buffer have some features in common, but Hootsuite permits deeper analysis and engagement. Both applications integrate with most popular platforms, yet Hootsuite allows you to connect with many more networks using third-party apps. The apps allow you to post, schedule, monitor and repost content, but Hootsuite again goes a step further by allowing you to respond to comments. Both tools allow you to view and post RSS feeds, however, the two programs begin to diverge when comparing their automation features, because Buffer integrates with an Internet based service called IFTTT that allows you to customize scheduling comprehensively.
Enhanced Engagement Reporting
Hootsuite provides detailed social network analysis. The social media app offers detail-rich traffic metrics and integrates with Google's sophisticated analytics suite. Buffer, on the other hand, only tracks information on the posts made with the social media app. Hootsuite is superior, in part, because the vendor acquired and merged with a firm that specialized in real-time analytics. The apps report functions, however, are limited in the free version.
Controlling the Platforms
Both platforms support team collaboration, with Hootsuite offering controls that are more sophisticated. For example, new users must authenticate their email addresses before accessing their accounts. For more technologically advanced enterprises, the social media app offers a protocol called single sign-on, which automatically logs in employees on their assigned workstation. The idea is that you can revoke this privilege easily if an individual leaves your firm.
With the Buffer business tier application, you can control user permissions by authorizing users to post content that requires your approval before publication. Hootsuite offers a much more complex control system, making it ideal for mid- to large-sized enterprises with many content contributing staff members.
The Best of Both Apps
Some digital marketers use the two apps together. For example, you can clearly monitor and regulate two different types of posts, such as curated and new content. Curated content originates from sources outside of your organization, but still offers value for your target audience. New content is material that your organization creates and publishes. Mixing content types this way makes your social media presence interesting and relieves you from some content development work. You can use the Buffer automated RSS add-on to post curated content, and use Hootsuite to post new content that does not overlap with your curated posts.
Applications such as Hootsuite and Buffer allow businesses to build deep relationships with their consumer base more effectively, while providing detailed engagement and performance analysis. Additionally, you can exercise more control over how employees access your accounts. Whether you choose one application or both, these platforms will help you improve how you manage your digital presence.
---
Written By Mike Tungate
Hello! I am the Web Services Manager @ EnvisionIT Solutions. I create beautiful websites, branding and marketing systems for businesses. Let me know if you have any questions. I am an avid photographer and a lover of musical instruments.