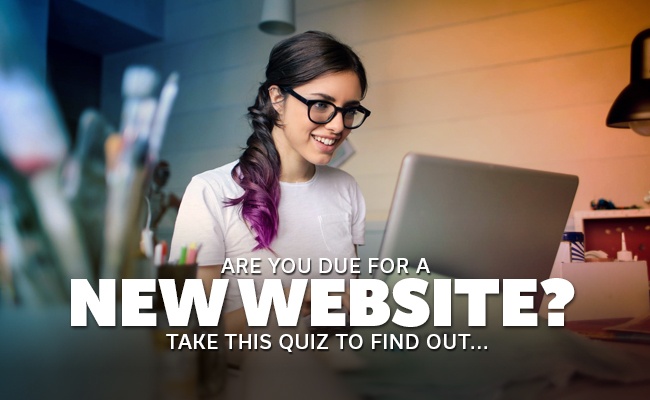 Trying to keep a business website up to date is challenging and can easily be overlooked if you don't pay attention to what your competition is doing. Looking at your competitors' website can give you an idea of what you may need to do to keep your website updated.
Take this five-question quiz to answer the question: Are you due for a new website?
1. Is your website mobile friendly?
This is truly the #1 question today if you haven't updated your website in a while. That's because the use of mobile devices has jumped to exponential numbers and expected to be standard within a short time. If you haven't updated your site in over five years, you are drastically behind. That's because someone looking up your outdated website on a smartphone or a table would more than likely get frustrated and likely leave in a hurry.
The answer here is what is called "responsive". This is a fancy web term for mobile-friendly. When your website is mobile-friendly, it resized and reshuffles your website content based on your screen size. Your website on a desktop computer will look much different than on a smartphone or tablet.
2. How is your website navigation?
An often overlooked aspect to any website is the navigation. Can your website visitors easily find what they came to your website for in the first place? Is your navigation functional and useful? Is it confusing and is there way too many dropdowns? Most older websites have major navigation problems as a whole. Doing a deep dive into your sitemap or website navigation is something every person with a website should do, especially if your website is older.
3. How is your website look and feel?
Does your website turn people away? Does it have an "old school" look? Most older websites have a vintage look and feel, which immediately tells the visitor, "I am either too cheap to rebuild my site" or "I am no longer in business, but my hosting was paid many years in advance". People immediately judge your business on how they perceive your website. If it is modern and uses nice photography, graphics and colors, they will be more likely to trust you and your business. This sounds petty, but it is unfortunately how the world works.
4. Are there a lot of broken links and 404 pages?
A common occurrence on older websites is many broken links; both internal and external links. There is nothing more frustrating than finding content you really want to see, but can't get to, because of a broken link. External links are typically a problem on older sites because people often take down pages or rename them, which can break the link. Having broken links is a great way communicate to your visitor that your website is outdated and needs a refresh. What is a 404 page? When a visitor clicks on a broken internal link (a link that points to a page on your website) they will be sent to a generic "404 page". This is a landing page that is a catch all for broken links.
Related post: Is a New Website for Your Business Worth It?
5. Is your website ranking on search engines?
All it takes is a website that's several or more years old to become outdated with SEO problems. What is "SEO"? SEO stands for Search Engine Optimization. This is the practice of preparing your website content to match the keywords people are searching for in Google so your website can be easily found. SEO optimization tactics have changed somewhat in the last several years, and not getting it optimized correctly can end up ranking your site extremely low on Google or other search engines. By incorporating proper SEO technique, you can finally rise to the top as your site deserves. An experienced web designer can scope out what your website needs to rank better in search results.