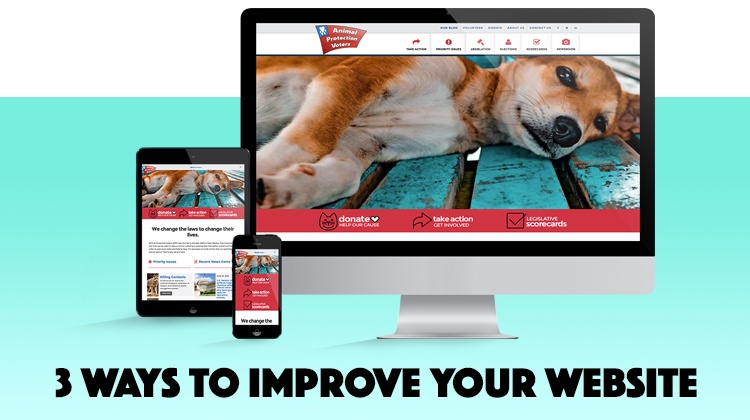 When it comes to having on online presence, there are obviously a great number of reasons why you should have a website. However, just having a website doesn't mean that it is a good or effective one. Rather than having a website just for the sake of having
one, use your website to help you land new clients, make more sales, retain existing customers, build trust in your reputation, and create more general awareness of your brand.
If your website needs an update and you're wondering, "What are ways to improve my website?" then read on. For non-technical business owners thinking about web design, here are three ways to improve your website.
Know What You Want and then Do It
Far too many people want to put up a website just because their competitors have one. That might be a good point to consider, but you also need to know why you need a website in the first place. The first step to building a house is understanding what the purpose is and whether or not you will be able to fit enough people as well as their needs in the current footprint. The idea of web design is exactly the same.
If you are trying to focus on just selling material with an online shopping cart then you will want to have a different layout than if you were trying to educate potential clients and sell them a service. This follows the same trend as the fact that an attorney's office looks different than a grocery store. That's why the very first step in web design is actually knowing what it is you want to do.
Once you have first decided the point and the main focus of your website, then everything else can be built on top of that. You can make sure everyone knows your theme and colors, your logo and your mission statement, and even has the information about your specific niche. As long as you are able to see that your website best presents your products, services, or campaigns, then web design is being done effectively. There are most certainly a lot of bad websites out there, and chances are if you have seen one, you don't know what to do with it.
See also: When Do I Need My Own Domain Name?
Make Navigation Simple
Besides the fact that many organizations put too much information on their website and actually clutter it up beyond the point of navigation, even websites that are bare bones can have problems when it comes to allowing their viewers to find anything. When someone clicks onto your web page you may only have a few seconds to catch their attention and make sure they are interested enough to stay and not go back to searching for one of your competitors. However, one of the biggest things you can do is not dazzle them beyond belief, but rather deliver exactly what they are looking for and no more. The idea of web design is to create a resource and a solution for potential customers.
Have All of the Bells and Whistles
While the point is not to overwhelm your site visitors, you need to give them everything that they could want so that they don't go looking for one of your competitors. This could be is price options, calculators, background information or even contact details so they can get a hold of you. By presenting all of your information, you can allow your potential customers to view you as a one-stop shop.