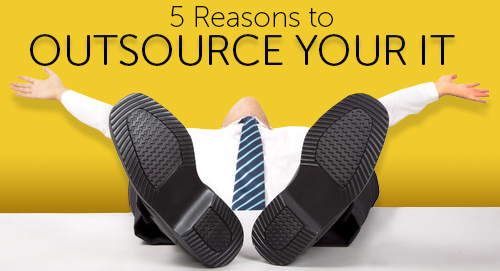 Have you been feeling let down by your in-house IT employees? Are you struggling to afford to keep full time IT personnel on staff, or are you feeling like there isn't enough work to keep them busy full time? Is it time to try something different? Is IT Outsourcing
right for you? Here are 5 reasons to outsource your IT.
1. Saving money
If you don't need a full time in-house IT source, then why are you paying the salary and benefits for one? With outsourced IT, you pay for services that you need, when you need them. You don't pay to have a person on the clock, waiting for something to do.
2. Support for your in-house personnel
Perhaps you pay an individual to do IT work in addition to his or her other duties with your company. The problem with this is that sometimes that person is unavailable due to other work responsibilities, holidays, vacations, or a multitude of other reasons. Outsourced IT is on-call to do what you need, when you need them. They're also available to help your in-house personnel with complex issues and support.
SEE ALSO: What to Look for When Considering IT Consulting
3. Your staff can focus on other things
It's great if you can split the IT duties among your employees. However, is IT really the reason you hired them? Outsourcing your IT services allows your staff to focus fully on what they were trained to do.
4. Additional services you may not have thought of
Your outsourced IT provider is trained in a number of different issues pertaining to your technology. Do you know how important it is to have a disaster recovery plan? Are you aware of the new hardware or software that will make your business run more effectively? Maybe not, but your outsourced IT provider does.
5. Returning your focus to your business
IT solutions should make your business easier, not harder. You shouldn't have to spend a lot of time or energy dealing with the employee matters that surround in-house IT personnel or the hassles inherent with trying to do your own IT work. Let your outsourced IT provider worry about your technology.
These are just a few of the reasons why outsourcing your IT makes sense.
If you would us to perform a Free Network assessment to get the current status of your computer network click here.