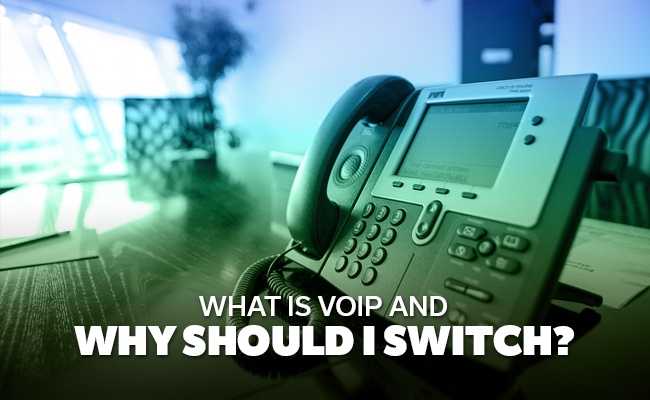 Long gone are the days where business owners are required to pay by the minute for long distance phone calls. Today, Voice over Internet Protocol (VoIP) has replaced the traditional phone system and introduced a wealth of solutions to make business easier. Best of all, this newer and more innovative technology is cheaper and is a much more effective way to do business. Even so, many people are confused over the notion of Voice over IP and have yet to take the leap. The following information is designed to explain this state-of-the-art technology and why all businesses should use this solution.
What Is Voice Over Internet Protocol?
Instead of having new phone lines installed in your business or using the older existing phone lines, all of your telecommunications and video traffic can be pushed through the Internet. This technology breaks each voice stream of the employee into data packets, compresses them, and then shoots the data over the web to the destination. Once the data is received, the VoIP service uncompresses the data, reorganizes it, and converts it into a voice for the receiving party to hear. Voice over Internet Protocol is completely different from having a consistent connection between two phone lines, which is the process that happens with a normal conversation.

Benefits of Voice Over IP
One of the top benefits of this technology is its ability to reduce business costs. From the start, it reduces the need to have costly phone lines installed. Most service providers offer equipment that hooks up directly to your broadband fiber. These providers also offer extremely competitive rates. Another major benefit of this technology is it reduces the overall costs for long distance and even international phone calls. With the increasing trend of employees working from home, you can arrange for the necessary hardware to be installed in your employees' homes. You can also install this software on mobile devices, which will ensure your employees are always reachable from an office line, even when they are on a beach vacation or just away from the office.
Voice Over IP Tips, Tricks, and Best Practices
Because the speed of your Internet connection determines the quality of your calls, it's important to make sure you have a constant connection with sufficient bandwidth. Fortunately, most of the larger providers are upfront about letting you know what you will need to get the best call quality without wasting broadband space and time. Another VoIP tip is to truly maximize the service with features. You can easily utilize standard services such as caller ID, voicemail, call forwarding, and video conferencing. Since this service can be managed by your IT department, it reduces downtime and costs pertaining to IT support. You can even bolster the security of your phone system with an encrypted VPN Connection.
In today's business world, VoIP is designed to give your business the cutting edge. It allows you to take advantage of the latest telecommunications solutions, while keeping costs low. Instead of traveling across the globe for a meeting, Voice over Internet Protocol empowers you to utilize video conferencing from various locations, even mobile devices. With today's business trend moving toward the mobile office, this technology is on the forefront and is simply a must-have for any business suited for tomorrow's world.