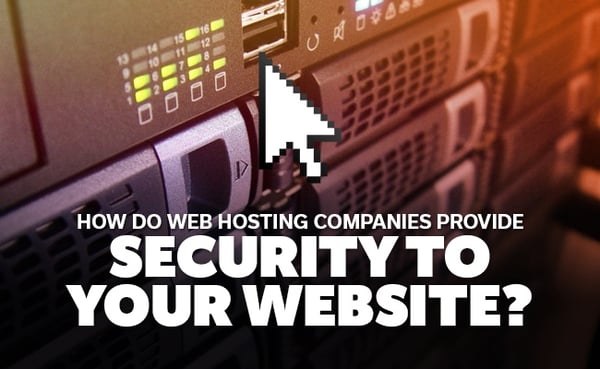 Not all web hosting companies are the same, which is why you need to look at a number of different things when comparing them and choosing who to work with. One of your main concerns should be the security of your website. If a hacker manages to
breach your website's security, they could do a lot of damage. They could corrupt your site, steal valuable data (such as the personal information of leads or customers) and potentially do irreparable harm to your brand name. How do web hosting companies provide security to your website?
The following are some of the website security measures that you should expect a reputable web hosting company to take in order to protect your website and to keep it secure:
They should use SSL certificates
The use of SSL certificates allows web hosts to protect transferable data. You can tell when a website has an SSL certificate by looking at the URL. Traditional URLs start with "http://" while those with SSL certificates start with "https://" The "S" stands for "secure."
Related Post: Are you making backups of your website?
Websites that ask for and use personal information from their visitors, whether it's email addresses or credit card information (in cases where websites have e-commerce pages), need SSL certificates to protect the data that's transferred between the host and the client. Basically, it ensures that the connection is secure. People who are shopping online or who are thinking about signing up for an email newsletter are less likely to do so on a website that does not have an SSL certificate.
They should regularly update their hardware and software
Hackers are constantly devising new ways to hack into software and hardware, finding loopholes in old security protocols that can leave websites vulnerable. Because of this, web hosting companies regularly update their hardware and software to stay one step ahead. Some web hosting companies use colocation services and have their dedicated server boxes fully managed. However, some web hosts leave it to their staff to keep their hardware and software up-to-date.
They should have recovery measures in place in the event of a cyber attack
No web hosting service is able to provide 100 percent website security. The most they can do is to implement as many preventative measures as possible. Because of this, a reputable web hosting service will have a recovery plan in the event that your website's security is breached.
This recovery plan involves the use of local backups to get your site back online if any files were lost during the cyber attack. Although different website hosts use different backup services, they should all accomplish the same thing, and that's to have an online backup solution in place to automatically backup all of your website's files on a regular basis.
They should emphasize regular employee training
It all starts with making sure that employees understand the importance of cyber security. Reputable web hosting companies will encourage their staff to pursue online information security degrees so that they will be more knowledgeable in that field and so that they will implement the best cyber security practices. While this can be costly for web hosting companies, they understand that to stand out from their competition, they must emphasize cyber security and to make it a priority.

These are just a few of the website security measures that a good web hosting service will implement to protect your website against hackers. For more advice concerning website security, be sure to contact us at EnvisionIT Solutions today.
---
Written By Mike Tungate
Hello! I am the Web Services Manager @ EnvisionIT Solutions. I create business websites, help shape a businesses image through branding, and help them grow through content marketing. I am an avid photographer and a lover of musical instruments.