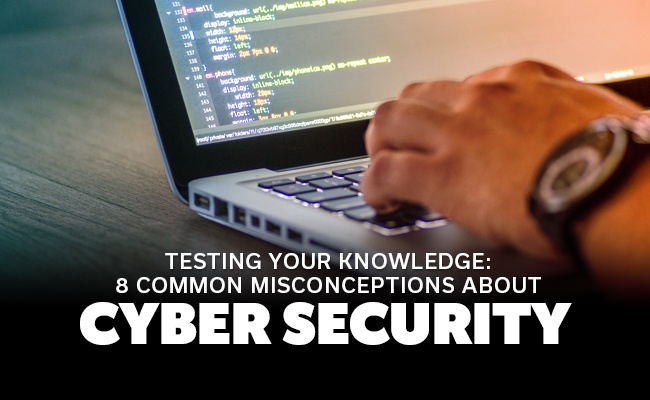 How much do you know when it comes to internet security? Do you know enough to sort out fact from fiction. Security is a confusing topic that produces many untruths, half truths, and exaggerations. Here are 8 common misconceptions about cyber security.
Only big companies or famous people are targeted. Not true, reports Computer How To Guide. Programs now exist that scan sites for vulnerabilities. An unprotected

computer will become infected with a virus very quickly. It's not about who you are, it's about whether or not your information is protected.

The anti-virus will always protect you. There are a lot of good anti-virus programs out there. But they won't protect you from all malicious attacks. Further, they won't protect you from hackers figuring out your passwords and other non-traditional attacks, Computer How To Guide reported.
Cyber threats are always external. False, reports DMG Federal.

With more businesses employing individuals on a seasonal or temporary basis, more people are getting access to internal systems. Threats also exist when employees open an email or attachment with a virus and risk infecting the network of machines company-wide.

No one can figure out your password. Passwords are surprisingly easy to guess, Computer How To Guide states. Not only do people tend to make passwords that will be easy for them to remember, but they tend to use the same password over and over. Hackers have been able to access numerous accounts from the same person or business simply because the same password was used over and over. ALWAYS use a password manager such as 1 Password or LastPass.
If you don't open emails from people you don't know, you're safe from viruses. Nope. Computer How To Guide explains that certain viruses access people from your contacts folder, meaning that the email from your mom could contain a virus and could cause viruses to be sent to other people you know in emails that appear to have come from you.
You will know if your computer is infected. Not always, Computer How To Guide reports. In the old days, you would receive pop-ups or your computer would run slow. Now there are programs that are nearly undetectable. Your personal information is accessed without any outward sign that it is happening.
Cyber security's only purpose is to hide information. Actually, DMG Federal states, cyber security also prevents unreliable data from circulating in your company's infrastructure.
Cyber security is expensive to deploy and maintain. Considering the information your business stands to lose without it, cyber security is surprisingly affordable. The important thing is to consider what your business needs. It may come in the form of an off-the-shelf program or it may be a custom solution. It will be cheaper than rebuilding an infected system and replacing lost information, for certain.
For more information about internet security and solutions that are available to you, contact us.