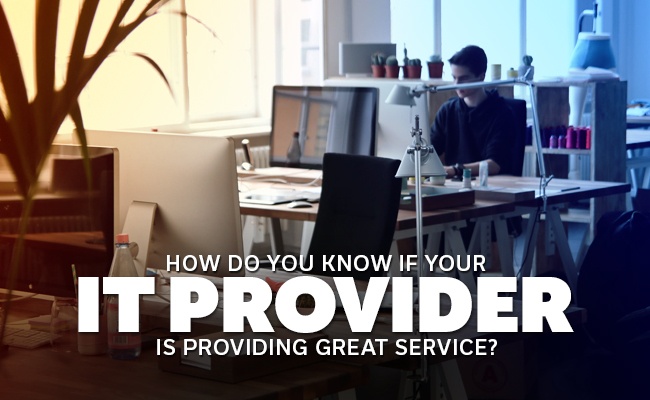 IT outsourcing can be very beneficial for your business. There are a lot of IT services that can be done a lot more efficiently and effectively by a managed services company, which can not only help reduce your costs but also provide you with more IT capabilities. However, not all managed services companies are the same. If you're not receiving good IT outsourcing services, you may need to switch providers. The following are a few ways that you can tell if your managed services company is providing good support:
Their primary business is IT support - There are a surprising number of IT providers out there who started off as another type of business and branched out to IT support. An IT provider that is dedicating part of its resources to another business, such as a telephone system or photocopier company, is not dedicating all of their resources to providing IT support, which is not reassuring. You'll want to work with a managed services company whose primary focus is providing IT support
Their helpdesk staff is actually helpful - Believe it or not, but some providers outsource their helpdesk to offshore companies. This can make communication between you and the actual provider difficult, making it more challenging for them to meet your IT needs.
They have an adequate IT staff - Some providers have more sales and administration staff than they do technicians. You'll want to make sure that they have plenty of technicians to provide full support to all of their clients. If they don't have enough technicians or too many clients, it means that they're spread thin, which means you won't be getting the immediate support you need
They identify and solve errors immediately - It's absolutely vital that your IT provider has the proper protocols in place to ensure that the appropriate actions are taken if a problem is detected, thereby solving the issue before it has a negative effect on your business. Some providers do little but send an email to you notifying you of the problem on the next business day.
They perform regular manual checks and maintenance - A lot of managed services companies rely too heavily on automation to take care of your IT needs and to identify potential problems. A good IT service will manually perform routine maintenance and inspections, which means that they aren't cutting corners and that they are actually committing resources to making sure that everything is working as it should.
They work with other businesses in your industry - You should feel more at ease with your provider's abilities if they are working with other companies in your industry. It means that they are more likely to be familiar with the specific software applications you are using to run your business and are therefore more capable of meeting your unique needs.
They measure client satisfaction - A reputable provider will have some kind of method for measuring client satisfaction to ensure that they are providing the best service possible. If they don't, then they don't care enough about your IT needs or experience.
They have a plan for growth - A good provider will be able to scale their services to meet growing demands. This means that you won't suddenly begin running into IT problems because your company is growing. They should inform you as to how they will keep up with any type of growth your business experiences. These are some of the signs that you are receiving good service from your IT provider.